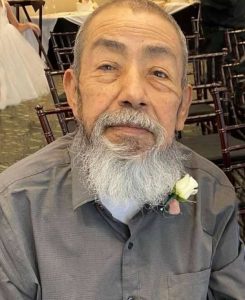 Richard J. Garcia (75) a resident of La Marque, passed away on Wednesday, November 8, 2022 at Kindred Hospital in Clear Lake. Richard was born to Simone and Fred Garcia on October 21, 1947 in Galveston, Texas.  He was a graduate of La Marque High School, Class of '68, and worked at Todd Shipyard as a Welder before becoming a police officer in 1985. Richard later went to work at the Port of Galveston as a Patrolman and retired at the rank of Sergeant.
He is preceded in death by his parents and his brother Thomas Garcia.  Richard is survived by his son Richard Thomas Garcia, daughter Brittany Garcia-O'Connor, son-in-law Jesse O'Connor, niece Ashlee Garcia and sister Maryann Rodriguez. He also leaves behind grandsons David Godinez, Kaleb Mora, Mychal Garza- O'Connor, granddaughters Hailey & Bailey O'Connor, and great-nieces Zoe Molina and Lauren Diaz de León.
A visitation will be on Friday, November 18, 2022 from 5:00pm – 7:00pm at the James Crowder Funeral Home in La Marque.