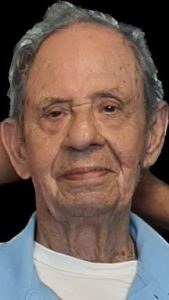 Richard was born March 17, 1932 and peacefully passed in his sleep on May 5, 2023.  He was married to the love of his life, Angela Lopez , for over 68 years.  Richard enlisted in the Marines and fought in the Korean war in 1950. He was awarded a purple heart medal in 1952.
Richard worked for several different NASA contractors for over 35 years. He also volunteered with the Elks lodge and VFW in the Clear Lake area.
Richard is survived by: brothers Edward and spouse Delores Lopez, Dan and spouse Annalisa Lopez, Armando and spouse Ana Lopez, sisters Lou Haddock and Theresa Hooper, sister-in-law Gloria Torres; daughters, Sandra and son-in-law John Kokosz , Georgia and son-in-law George Johnson; son Richard N. Lopez; grandchildren and great grandchildren:  Nathan Lopez and Travis Poe, Melissa and Kade Reeves and their daughter Olivia, Dustin Johnson and Taryn Doty and their children Ayden, Alexis, Levi, and Faith; Kelly and William Meier and their children James, Claire, Madeline and Lillian; and Richard M. and Niki Lopez.  Richard was dearly loved and will be missed by his family, many relatives and many friends.
Visitation will be held Friday May 12, 2023 beginning at 10:00 am with funeral service at  11:30 am.  The Burial will be performed on Saturday May 13, 2023 at 10 am, at Forest Park East Funeral Home and Cemetery, 21620 Gulf Freeway, Webster TX 77598.
Fond memories and expressions of sympathy may be shared below.