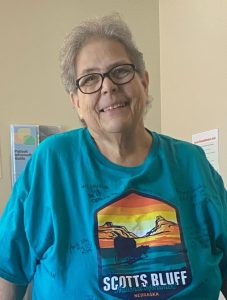 Rhonda Colleen Jones, a long time resident of Somerville, TX and just recently Dickinson, TX, passed away on June 29, 2023.
Rhonda was born on January 29, 1959, to Orman Claude Jones and Lawanda Oneta Newell Jones in Texas City, TX.
Rhonda was a kind and loving soul who never met a stranger and was loved by all. She was known for her wonderful sense of humor and her booming, infectious laugh.
While Rhonda worked many office jobs over the years, she enjoyed retirement. In her retirement, Rhonda loved the Astros and loved to watch them play. She also loved to travel and road trips. She loved to work crossword puzzles and play games, especially Farkle. She also loved music, particularly Jackson Browne and Adele.
Rhonda also loved her fur babies. She leaves behind Lola, Sophie, Babi and Kitty, whom she always called her kids.
Rhonda is preceded in death by her parents.
She leaves behind many to cherish her memory, including her sister, Pam Sweny of Dickinson, TX; brother, Randy Jones (Linda) of League City, TX; her life partner of 20 years, Diane Ehler of Spring, TX; Thomas Ehler of Spring, TX; and Bethany Brown (Matthew) of King George, VA; nephews, Robert Hamilton (Deanna) of Santa Fe, TX; Jason Hamilton (Paula) of Ooltewah, TN; Kevin Hamilton (Jennifer) of League City, TX; Jason Sweny (Kay) of Houston, TX; Jeff Sweny (Kristina) of Deer Park, TX; niece, Miranda Baum (George) of Pearland, TX; Martin Griffin (Nichole) of League City, TX; aunt, Linda Schoppe (Julius) of Texas City, TX; and numerous great nieces and nephews, cousins, great great grand niece and nephew, as well as several other family and friends.
In her honor, there will be a Celebration of Life service at Asbury United Methodist Church, 5354 Space Center Blvd, Pasadena,TX on Saturday, July 22, 2023 at 2:00 pm.