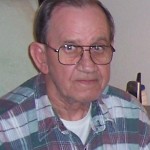 Rex Devone Gilbert, 78 of Texas City passed away Saturday, March 1, 2014 at Mainland Medical Center. He was born October 9, 1935 in Austin, Texas to Vide and Etta Mae Gilbert.
He was a longtime resident of Texas City. Rex was a veteran in the US Army. He worked as a Pipefitter for Local 211 for over 50 years.
He is preceded in death by his wife, Frankie Gilbert, grandson Jacob Moon, his parents and brother, Thomas Gilbert.
Rex is survived by his four daughters: Melissa Gilbert, Rexann Gilbert Manion and husband Bill, Susan Gilbert, and Gloria Gilbert Burleigh; one son: Tim Gilbert and wife Amanda; four sisters Sally Frye, Minnie Faye Wreyford, Gloria Howell and Clara Trogdon and husband Joe, brother Mike Gilbert and wife Barbara; six grandchildren: Tabitha Gilbert, Brittany Burleigh, Casey Burleigh, Andrew Gilbert, Cody Gilbert, and Hannah Gilbert; two great grandchildren: Rex Avery Gilbert and Sofie Jane Burleigh; and numerous other family members and friends.
Visitation will be Wednesday, March 5, 2014 from 5:00pm to 6:00pm with the funeral following at 6:00pm at the James Crowder Funeral Home in La Marque.