Reverend Gerald Gene Westerbuhr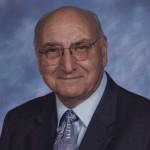 Reverend Gerald Gene Westerbuhr, 80, resident of League City, Texas passed away September 1, 2014 in Webster, Texas. He was born May 24, 1934 in Hildreth, Nebraska, to parents George and Marie Westerbuhr.
He served as Parish Pastor and Chaplain for forty five years. He loved his Lord, family, and church.
He is survived by his wife Ruby Westerbuhr; daughter Michal Beavers; sons Mike Puckett, and Scott Puckett and wife Amy; grandchildren Kristi Russell, Leslie Smithpeters, Andrea King, Nikki Black, Natalie Matthews, Lauren Puckett, Brittany Puckett, Courtney Puckett, Kayla Puckett, Ryan Puckett, Colton Decell, and Grayson Decell. He is also survived by eight great-grandchildren.
A memorial service will be held at 11 am, September 6, 2014 at Faith Lutheran Church, 800 FM 517 E., Dickinson, Texas.
In lieu of flowers, memorial donations may be made to Family Service Center, 2200 Market St,, Galveston, Texas 77550.
A "Special Thanks" to Julie and Tony Purser and Willie Boudreaux.