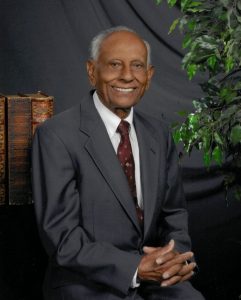 Rev. Henry S. Sukal, 96, went to be with his Lord and Savior on Sunday, December 22, 2019, at his residence surrounded by his family.
Henry was born on March 4, 1923 in Suva, Fiji to Kahar and Margaret Sukal. He was a resident of Texas City, TX for over 50 years. Rev. Sukal was preceded in death by his wife, Elizabeth Sukal and his daughter Diana Sukal-Salisbury. Rev. Sukal is survived by his sons, Philip Sukal Sr., Gideon Sukal Sr. and wife Launa, Stanley Sukal and his wife Roselyn, 9 grandchildren and 9 great-grandchildren.
At the age of seven, Henry met the man that would change his life forever, Rev. Lawrence Borst. This meeting would change the lives and the course of history for his children and grandchildren. It also led to a large ripple effect in the lives of his brothers and sisters and their descendants.
Rev. Borst started the Indian work in Flagstaff Assembly of God, in the Fiji Islands. Henry received the Baptism of the Holy Spirit at the age of 16 on March 19, 1939.
In 1942, he envisioned the needs of the Indian people and had a calling from within. His studying and training at Flagstaff Church prepared him for the ministry. The following years would lead him to Nausori and the western side of Viti Levu where he preached and preformed evangelical work in this difficult field among the Indian people. In January 1962, he was appointed assistant pastor of the Flagstaff Church and later became pastor until 1969. During this time he was also a member of the Executive Committee of the Assembly of God of Fiji and held other leadership positions within the church. He felt the calling of the Lord to be a missionary to the United States. Rev. Dan Schumack sponsored him and it was through that process that validated his calling. He held revival meetings throughout the United States. He started several new churches and handed them to newer pastors. This allowed him to continue to spread the gospel by holding Bible studies, preaching, mentoring, teaching adult Sunday school, and serving as an assistant pastor to several other churches where he felt needed.  He would also return back to the Fiji Islands to hold revival meetings where people were saved and miracles where preformed. Towards the end of this ministry, he was an active member at the West Bay Assembly of God Pastored by Rev. Melvin Ware.
Visitation will be held Saturday, January 4, 2020 from 11am to 12 noon, followed by funeral services at West Bay Assembly of God Church in Dickinson, TX with Pastor Melvin Ware officiating. Interment will follow at Forest Park East in Webster, Texas.
Pallbearers will be Gideon Sukal, Immanuel Sukal, Stanley Sukal, Mark Sukal, Nathaniel Sukal, and Philip Sukal Jr.
In lieu of flowers, donations can be made to Henry Sukal at Texas Dow Employee Credit Union.