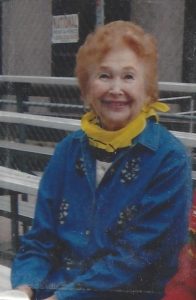 Rebecca M. Gibson, 103, of Dickinson, Texas, passed away on December 17, 2022. Rebecca was born on May 13, 1919 in New York, New York to parents, Samuel Medoway and Ida (Clayman) Medoway.
She worked as a secretary at NASA.before retiring
Rebecca is preceded in death by her parents, husband, Melvin Gibson and sister, Betty Pomper.
She leaves behind to cherish her memory, daughter, Marion Gail Coates and husband, Lindon and son, Barton Keith Gibson and wife, Kathleen, numerous grandchildren, great-grandchildren and great-great grandchildren.
In her honor, there will be a graveside service on Friday, December 23, 2022 at 10:00 am at Forest Park East Cemetery in Webster, Texas.