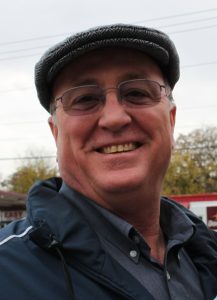 Randy Gene Ransom, 67, a resident of Friendswood, TX formerly of Round Rock, TX passed away on December  1, 2022 in Houston, TX. Randy was born January 25, 1955 in Decatur, IL to Connie and Robert Ransom. He was the oldest of the four Ransom children and learned from a young age the values of hard work and family. Randy was proud to say that he started his first job at age 12, running milk routes in the early freezing cold mornings of Illinois. He soon took on jobs selling soda pop at the raceway and working at his small towns slot car track. It was through this he learned a love of auto mechanics and engineering. At the age of 15, Randy and his family moved to Austin, TX where he attended Lanier High School. Randy was always an athlete, he played football, basketball and attended the Texas State Championships for Track and Field in High Jump. Randy graduated from Lanier High School in 1973.
Randy attended the University of Texas at Austin where he studied Engineering and Business. During this time period he worked multiple jobs to put himself through college, including running his family's Mobil gas station, a small engine repair service, Mac Tools Sales, and the nightshift man of Austin State Hospital. He never tired; he was a strong willed man who committed himself fully to his responsibilities.
Randy met the love of his life Carol Elaine Carmichael during his senior year of High School. On June 11, 1977, Randy and Carol married in Austin, TX. They spent 49 wonderful years together, side by side through every season of life. Randy and Carol have two daughters, Ashley and Alyssa. Randy was a family man who centered his life on his wife and girls. He would say many times that his purpose in life was to be a father. Randy and Carol raised their daughters in Round Rock, TX where they spent many years bouncing between youth sports and school activities. Randy was always willing to step up to help in any way, coaching youth softball teams, catching pitching lessons, keeping stats, or fixing all things cars, motors or engines for friends and family. Many will remember his beloved powder blue 1957 Chevy Bel-Air as he was a classic car enthusiast. He loved taking trips to Iowa to visit his daughter Ashley who works at Iowa State University. Iowa State was an incredibly special place to Randy, as both daughters attended and graduated from ISU. He could always be seen wearing Cardinal and Gold, supporting the Cyclone Nation.
In 2015, Randy retired from the Texas Commission of Environment Quality to commit his full attention, love and time to being a Papa to his three grandsons, Ransom Gene Tjaden (13), Jarrett Byron Tjaden (10) and Callan Rhys Tjaden (7). Randy will best be remembered as the devoted Papa who attended everything baseball, basketball, soccer, robotics, or piano for his grandchildren. This included both practices and games; you could always find Randy sitting in his folding chair along the fence watching every moment of his boys and their teams. Nothing was better than seeing his boys play.
He is preceded in death by his father, Bob Ransom, and mother, Connie "Moose" Ransom, sister Denny Martinez, sister Carla Arocha, and brother John Thomas Ransom.
Randy leaves behind his wife of 49 years, Carol Elaine Ransom of Friendswood, TX and daughters Ashley Nicole Morton of Ames, IA (Patrick) and Alyssa Audrey Tjaden (John), grandsons Ransom Gene Tjaden, Jarrett Byron Tjaden and Callan Rhys Tjaden of Friendswood, TX.
Our family would like to send a heartfelt thank you to the Houston Methodist Neuro Institute ICU Doctors and nurses for their love and care of our beloved Randy.