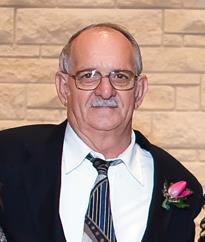 Randalle Slawson was born to Ettie and Amos Charles "Red" Slawson in Jacksonville, TX.  Randalle was predeceased by his parents, two of his brothers Charles and Jerry, his beloved son, David Clint and Lois, the love of his life.
He is survived by his granddaughters and their husbands, Jennifer Slawson Little and husband Ryan E. Little, Stephanie Slawson Wilson and husband Samuel C. Wilson, his grandson Hunter Wells and fiancée' Cayia Leffel.  These grandchildren were his pride and joy.  We cherish the many memories of him singing, "up in the morning and off to school."  If you knew Randalle then you knew all about his grandchildren and his Great Granddaughters Kaylynn Anne Wilson "Sweet Pea" and the newest addition little Trinity.  He is also survived by his daughter in law Katie Slawson Wells and husband Edward E. Wells, Jr., his brother Amos and wife Doris and their family, sister Florine Robinson and family, and numerous special nieces and nephews. He enjoyed spending any free time that he had with his family and friends.
He grew up in Hitchcock, where at an early age, he had both a fondness and true talent for working on cars and anything else that was broken.  We have always said, "If Papa couldn't fix it—then it couldn't be fixed!"
He worked for the Texas City Terminal as a yard master most of his adult life, where he made friends that lasted a lifetime.
The family wishes to thank all the family and friends that kept Randalle in their prayers.  A special thank you to Robert and Ophelia "FeeDee" Born, they loved him like he was their son and walked along with him in his journey of faith.  Thank you from the bottom of our hearts to Walt and Lucy Williams, who started off as his neighbors and ended up as the best friends that he could ever ask for. Thank you to his Church family for all the love and prayers.
A visitation will be held at James Crowder Funeral Home in La Marque Sunday, July 28th, from 5-7pm. Service will be held Monday, July 29th, at 10am, with Rev. James Littleton of Grace United Methodist officiating. Interment will follow at Galveston Memorial Park Cemetery, Hitchcock, TX.