A gathering o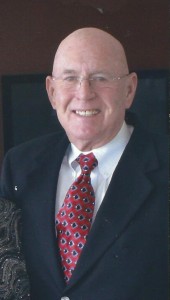 f family and friends will be held at 11 a.m. on Tuesday, December 2nd, at Tiki Island Chapel, Tiki Island, Texas to honor the life of Ralph Harris Miller, Jr. Ralph was born in Amarillo, Texas on February 20, 1932 to Ralph and Guila Miller. He passed from this life on Saturday, November 29th, at the age of 82.
Ralph graduated with a Mechanical Engineering Degree from Texas Tech University in 1954, was a member of Sigma Alpha Epsilon Fraternity, and when he walked off the stage with his degree, he was handed his commission as 1st Lieutenant in the U.S. Army Corps of Engineers. Ralph was hired by Monsanto Chemical in Texas City and later transferred to St. Louis, Missouri. When Ralph was to transfer with Monsanto to Chicago, he opted instead to become a partner in S&B Engineering, a new company being formed in Houston. Ralph retired from S&B in 1997 as Vice President of Operations.
Ralph served as an Alderman and a Mayor of Tiki island, was a charter member of Tiki Island Chapel, and volunteered as an EMT and fireman with the Tiki Island Fire Department.
He loved hosting parties and enjoyed serving his 'World Famous Margaritas'. Ralph was a great storyteller and had many interesting stories and experiences to share as well as magic tricks to perform. He enjoyed his Corvettes and enjoyed 'pick-up' basketball games. He stopped smoking in 1970 and beginning running. Ralph was a triathlete and a half-marathoner where he won many awards. Ralph's enthusiasm and energetic attitude will be missed.
Ralph is survived by his wife Gaylene; brother Charles Miller and wife Jean; daughters Kay Stewart and husband Todd, Sue Jarvis and husband Mike, and Amy Miller; step-children Michael Adams and wife Shelley, and Cherie Viator and husband Michael, plus grandsons, step-grandchildren, and many other relatives and friends.
In lieu of flowers, please contribute to your favorite charity or to the Tiki Island Chapel Building Fund, 835 Tiki Drive, Tiki Island, Tx 77554.