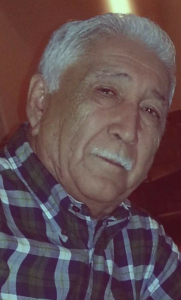 Rafael G. Trevino, 74, of League City, TX, passed away October 31, 2016 in Webster, TX. Rafael was born August 26, 1942, in Los Fresnos, TX to Angela and Pedro Trevino. He was a member of St. Mary's Catholic Church in League City, TX, and retired from the HISD as a warehouseman. He was preceded in death by his parents, a sister Maria Elena Hernandez, and a brother Horacio Trevino.
Rafael is survived by his loving wife of 41 years Margarita Trevino; daughters Maria Elena (Ventura) Salinas, and Sarah (Juan) Cano; sons Rafael (Christy) Trevino, Jr. and Esteban Trevino; sisters Antonia (Juan) Ramirez, Hortencia Vasquez, Concepcion Montemayor, Lupe Contreras, and Maria del Carmen Trevino; brothers Antonio Trevino, Juan (Cathy) Trevino, Pedro (Linda) Trevino, and Gilbert (Frances) Trevino; grandchildren Erik, Gabrielle, Christian, Aidan, Aleyna, Kyla, Auriana, Rafe, and Ivan; numerous nieces and nephews.
A visitation in his honor will be held from 5-8 pm, Thursday, November 3, 2016, with a Rosary at 7:00 pm, with funeral services 10:00 am Friday, November 4, 2016, Crowder Funeral Home Chapel, Dickinson, Texas. Interment will follow at Forest Park East Cemetery, Webster, Texas.