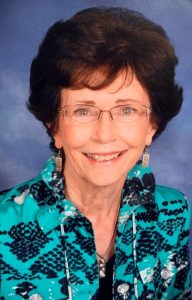 Phyllis Ann Mitchiner 80, resident of Dickinson, Texas passed away on September 8, 2019 in Friendswood, Texas. She was born April 16, 1939 in Galveston, Texas to parents Jake and Ann Ottwork.
Phyllis was a longtime member of the Shrine of True Cross Catholic Church and served as secretary of the Shrine of True Cross School for over 46 years.
Phyllis was preceded in death by her husband, Tignal Jerry Mitchiner in 2017.
Survivors include her daughters, Jerry Ann Magliolo, Mollie Mitchiner, Julie Minasi and husband Steve; sons, James Mitchiner and wife Debra, and Tignal Joseph Mitchiner and wife Brenda. Also surviving are fourteen grandchildren and nine great-grandchildren, brother-in-law, John Mitchiner and wife Sharon.
Visitation will be held on Friday, September 13, 2019 from 5 p.m. – 7 p.m. with a rosary at 7 p.m. at Shrine of True Cross Catholic Church in Dickinson.
Funeral mass will be held at Shrine of True Cross Catholic Church on Saturday, September 14,2019 at 10 a.m. with interment to follow at Mt. Olivet Cemetery in Dickinson.
In lieu of flowers, the family requests memorials be made to True Cross Catholic School, 400 FM 517 East, Dickinson, TX 77539.