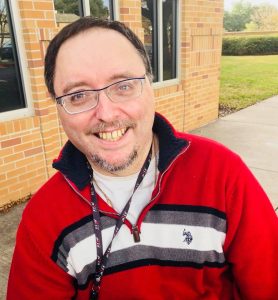 Phillip Mitchell Dumas, of Bacliff, passed away on Tuesday, October 5, 2021 in Galveston, Texas at the age of 53. He was born on December 30, 1967 in Houston, Texas to Robert and Ramos Dumas.
Phillip was a man who was very interested in being active, he was a very creative and independent person, going from being almost 30 years in a wheelchair due to having had a car accident, he always saw the way to do things at home .
He lover of country music, cooking and a good Dumas style barbecue that we always loved with his style and tricks. A person of great Catholic faith and always willing to accept God's will, he taught us that the only way to follow a difficult path and find happiness in life here and hereafter was to always believe in God.
A fan of the sea, car and airplane engines, there was always a tool in his workshop that was indispensable for any job he wanted to do.
Charismatic, affectionate, counseling and very concerned about the people around him, and more than anything a very strong person who fought battles in the face of adversity.
He was preceded in death by father Robert Dumas, mother Ramos Venegas, grandmother Georgia Lee Dumas, uncle Henry Dumas, grandmother Ramona Zavala and grandfather Miguel Venegas.
Philip is survived by his loving wife Milagros, aunt Mariana Venegas Vda. Dumas, uncle Miguel Venegas Zavala, aunt Victoria Gonzales Zavala, father-n-law Ernesto Vallejos, mother-n-law Martha Fernandez, son of miracles Jean Piere Arenas, sister-n-laws Erika Vallejos and Pamela Vallejos and many other loving family and friends.
The family will receive friends on Tuesday, October 12, 2021 from 5-7:00pm at Crowder Funeral Home, 1645 East Main, League City, Texas 77573. A Funeral Ceremony will follow on Wednesday at 10:00am at Crowder Funeral in League City with Deacon Russ Carroll presiding.
Interment will take place at Forest Park East Cemetery in Webster, Texas.