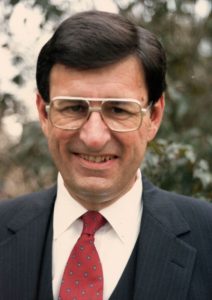 Peter Herman Quattrini passed away Saturday, March 25, 2023 at the age of 83. Pete was a BOI, born at St. Mary's infirmary in Galveston on November 7, 1939. He attended Sacred Heart School and then entered Kirwin High School, playing in the band, until his graduation in 1957. Following high school he graduated from St. Edward's University with a Bachelor of Arts degree with a secondary Teaching Certificate in 1961.
Peter married the love of his life Virginia Sue Smith on October 21, 1961 at St. Mary's Cathedral in Galveston. Peter started his teaching career in a rural school, Olfen, in San Angelo, Texas, teaching there for 3 years. After the birth of their first son, Virginia and Peter moved back to Galveston to be closer to family and higher education. Peter was employed at Hitchcock ISD teaching 6th grade while working on his Master's degree at Sam Houston University. He graduated in 1968 with a Masters of Education degree with Texas certifications in School Administration and Counseling. Peter became a Hitchcock ISD principal in 1970 at Northside Elementary and went on to become the principal of Stewart Elementary in Hitchcock which he held for 3 years. In 1976 he was reassigned to be a principal of Crosby Intermediate School. Virginia and Peter moved to Clear Lake City in 1978, where Peter held a teaching position and then was principal at Bay Elementary School in Baybrook and Ferguson Elementary School in League City. Peter made many contributions to education and communities he served.
After retiring in 1997, Peter and Virginia traveled to all 50 states, Italy, Sweden, Russia and European capitals: Paris, London, Rome.
Pete was preceded in death by his parents Peter H. Quattrini and Margaret Underhill Quattrini. Also, two infant sons, David and Stephen Michael Quattrini.
He is survived by his wife, Virginia Sue Smith Quattrini and son Christopher Quattrini of Goodyear, Arizona, two grandchildren David Quattrini of Ft. Worth, Texas and Rachel Dempsey, and one great-grandson William Stephen Dempsey of Seattle, Washington.
The Family will receive friends on Sunday, April 16, 2023 from 5-7:00pm with a Vigil Service at 6:00pm at Crowder Funeral Home, 1645 East Main, League City, Texas. A Funeral Ceremony will follow on Monday at 10:00am at St. Mary Catholic Church, 1612 East Walker, League City, Texas 77573. Interment will follow the Ceremony at 2:00pm on Monday at Galveston Memorial Park Cemetery in Hitchcock, Texas.