Pete Steve Nicolaidis, Sr.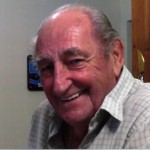 Pete Steve Nicolaidis, Sr., 76, of Santa Fe, former longtime resident of Texas City, passed away September 20, 2014 in Texas City. Pete was born August 3, 1938 to Steve and Katherine Nicolaidis in Galveston, Texas. He attended School at Ball High and two years at Lamar Tech in Beaumont. After marrying his high school sweetheart, Carolyn Rosendahl, Pete worked for Britain Electric and Farmer's Marine Copper works in Galveston. Pete ended his career as a Maintenance supervisor at Valero Refinery in Texas City after 26 years.
Pete was preceded in death by his father, Stelios, his mother, Katherine, his daughter, Teri, and his sister, Mary Scharmen and her husband George. He is survived by his wife of 56 years, Carolyn, sister Cally Alexander and her husband Larry, nephews Sam Lampis, and Brian Lampis and his wife Natalie, daughter, Katina and husband Mark, sons, Pete Nicolaidis, Jr. and wife, Penny, Larry Nicolaidis and wife, Rita. Grandchildren, Savanna Hantz and her husband, John, Pete Nicolaidis, III and Taylor Kelm, Nathan Norgan, Kayla and BJ, Burd, Rachel Lyons, Zachary Lyons; and great grandchildren, Eli and Isaac Hantz, Pete Nicolaidis, IV, Robbie Monroe, Marcus Villareal, and Jayse Roe.
A visitation in his honor will be held Wednesday, September 24, 2014 from 5:00 to 8:00 pm with funeral services Thursday, September 25, 2014 at 10:00 a.m. at Crowder Funeral Home Chapel, Dickinson, Texas. Pastor Steve O'Donohoe will be officiating.
Honored to serve as pall bearers are Chris Harrison, Pat Robert, Randy Harp, Gill O'Balle, Kevin Polivka, and Joey Stubbs.