Pauline "Honey" Alexander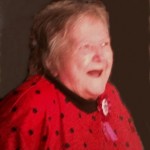 Pauline "Honey" Alexander 90 passed away October 13, 2014 in Texas City. She was born March 22, 1924 to Ernest and Lola Choate in Center, Texas. Pauline was a resident of Dickinson for 58 years.
She is preceded in death by her parents and her husband, U.T. "Alec" Alexander, Sr. and daughter Judy Bryson.
She is survived by her son and daughter-in-law; U.T. "Tim" and Lisa Alexander, Jr. of Dickinson, brother and sister-in-law; Rufus and Alma Choate of Alvin; six grandchildren; Brady Alexander, Dylan Alexander, Kimberly Jacobs and Donnie, Sandy Bryson and Julie, Rene Bryson and Vivien Heckendorn; four great grandchildren; Christopher Bryson and Kim, Kyle Bryson and Tonya, Alexis Jacobs and Natalie Jacobs and three great grandchildren; C.J., Shariyana, and Chamille Bryson and numerous nieces and nephews.
The family would like to thank the staff at The Rio at Mainland Center for their care, love and devotion to her. A special thanks to Rose Mack for the care and love she gave to Honey and the rest of the family.
Honey will be remembered for the love she had for her family and friends. She will be missed by all.  A Visitation will be from 1:00pm-2:00pm on Saturday, October 25, 2014 at the James Crowder Funeral home. Memorial Service will be at 2:00pm on Saturday, October 25, 2014 at the James Crowder Funeral Home in La Marque with Barry Kusnerik officiating.