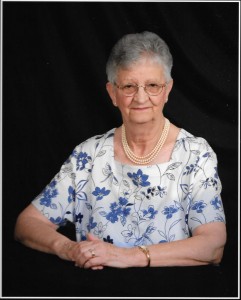 Patsy Greene went to be with her Lord on April, 24, 2015 after a long battle with cancer.  She is survived by her husband of sixty-one years, Kenneth E. Greene, her sons, Kenneth D. Greene and his wife Elaine Greene of Houston, Texas, Robert D. Greene and his wife Candace Greene of Lafayette, Louisiana, and her daughter Doris Ann Herrmann and her husband, John Herrmann of League City, Texas. She was also blessed with eleven grandchildren and six great-grandchildren that God brought into her blended family. She is also survived by many cousins, nieces, and nephews. Her family appreciates all the cards, calls, prayers, flowers, and food from her friends during her illness. They also appreciate the professional, loving, compassionate care given Patsy by H.C.T., Hospice Care Team.
Patsy was born on March 22, 1930 in Shreveport, Louisiana. She is a graduate of Byrd High School, and Centenary College, both in Shreveport, Louisiana. As a young lady, Patsy was active in roller skate dancing and achieved a high level of proficiency. She is preceded in death by her parents, Dillon and Doris Cobb, and her two brothers, Jack Cobb Sr. and Robert Cobb. She entered the teaching profession in 1953, and taught in schools in Shreveport, La., Lake Charles, La., Lafayette, La., and briefly in Houston, Texas. She will be remembered for her kind, loving, gentle spirit, and her desire to serve the people she met as she traveled this road of life. During her move from Lake Charles to Lafayette, La., she took an empty cup, knocked on her neighbor's door, and said, "Hi, I'm Patsy Greene, your new neighbor, and I have come for a cup of coffee." Patsy never met a stranger.
Patsy was a member of Clear Lake Baptist Church and was active in her Sunday School class and church. A memorial service will be held on Tuesday, April 28, 2015 at 10:00 am in her church, located at 15700 Space Center Boulevard, Houston, Texas, 77062. In lieu of flowers, donations can be made to the Clear Lake Food Pantry (same address) or the American Cancer Society.