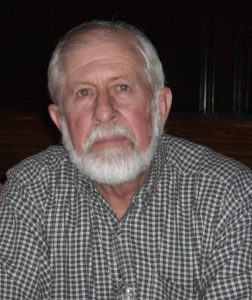 Patrick Owen Slattery, 71, of Texas City passed away Tuesday, November 8, 2016 at his home surrounded by family.
Pat was born April 12, 1945 in San Antonio, Texas, the son of Edward Owen Slattery and Lula Blanche Powell Slattery. He has been a resident of Texas City since 1951 and a member of St. Mary of the Miraculous Medal Catholic Church. He attended Our Lady of Fatima, Texas City High School and Graduated from Kirwin High School.  Pat then continued his studies at St. Edwards University in Austin. He met his best friend and the love of his life Legia Tranchina at Our Lady of Fatima School when he was in the 8th grade. They were high school sweethearts and then married July 24, 1965 for 51 years. They then started their family of 4 beautiful children. He was a retired electrician from IBEW Local Union 527 of Galveston and then he retired from Texas City ISD Maintenance Department. Pat was a man of very few words but was the most kind, caring and loving man ever. He loved his family and his family came first. He was very active in his kids' activities while they were growing up. He was a little league coach, a volunteer for Our Lady of Fatima School, and a volunteer for St. Mary's Catholic Church.
He is preceded in death by his parents, in-laws, brother Robert E. "Bob" Slattery and son-in-law, Robert D. Jones.
Pat is survived by his wife Legia Tranchina Slattery of Texas City; three daughters and sons-in-law, Denise Morales (Mike), Jeanna Hargrove (John) and Lauren Jones; one son and daughter-in-law Patrick Owen Slattery II (Angie); sister Kathy Levesque; eight grandchildren and their spouses, Josh Houston (Tiffany), Brandon Morales (Bella), Jordan Houston (Julis), Tara Morales, Skylar Slattery, Karsyn Slattery, Caleb Jones and Esther Jones; three great grandchildren  Gabriel Morales, Jasper Houston, and Rhyder Houston; brother and sister-in-law Sam and Tootie Tranchina and numerous nieces, nephews and other relatives.
Visitation will be 5:00 pm to 8:00 pm Thursday, November 10, 2016 at the James Crowder Funeral Home in La Marque with a Vigil Service will be at 7:00pm.
Funeral Mass will be 10:00am Friday, November 11, 2016 at St. Mary's of the Miraculous Medal Catholic Church in Texas City, with Father Clint Ressler, officiating. Interment will follow at Mt. Olivet Catholic Cemetery in Dickinson.
We would like to thank Good Shepard Hospice and his sister Kathy Levesque for their caring attention during his final weeks.
Always in our hearts and will forever miss you.