Patricia Sue Tyrrell Harrity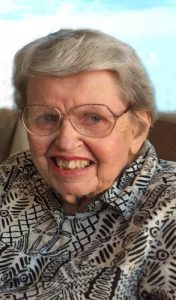 Patricia Sue Tyrrell Harrity, 88, of Angleton, Texas, a former longtime resident of Sweeny, Texas, died of natural causes on July 5, 2019. Patricia was born June 8, 1931, to Thomas Walter and Leona Sue Fisk Tyrrell in Chicago, Illinois. She graduated later in life from University of Houston Clear Lake, BS Accounting, and worked as Vice President of Technology at Texas Gulf Bank for many years.
Patricia was preceded in death by her parents, husband Harry L. Harrity, and sister Dorothy Lois Buchanan and husband Joe.
She leaves behind to cherish her memory daughters Sue Harrity Powell and husband Don, and Ann Elizabeth Reans and husband Gary; son Henry Walter "Hank" Harrity and wife Jennifer; grandchildren Henry Charles Harrity, Jacquelyn Nicole Matties and husband Matthew, Carmen Michelle Harrity and fiancée Michael Warren, Alyssa Danielle Reans, Aimee Marie Harrity, Andrew Thomas Harrity, and Eric John Harrity; great-grandchildren Genevieve Matties, Matthew Matties, and Gabriella Matties, and numerous nieces and nephews.
In her honor a Mass will be celebrated 10:00 AM, Tuesday, July 16, 2019, with Visitation 8:30 AM and Rosary 9:00 AM at Stella Maris Chapel, La Marque, Texas. Bishop Gerardo Zendejas celebrating. Interment follows at Mt. Olivet Catholic Cemetery, Dickinson, Texas.
Memorial donations in honor of Patricia may be made to Youthentity, a charitable organization for empowering youth, PO Box 1989, Carbondale, CO 81623, or online at www.youthentity.org.