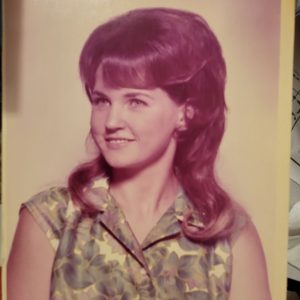 PATRICIA CLARA FORD, known as PATTY FORD, was born March 14, 1950, in West Virginia.  She died on Mother's Day, May 14, 2023.  Growing up, she  lived in France, Germany, and numerous other places, being the cliche army life of her father. Mom was a vivacious, active woman in her early years in sports such as bowling leagues and women's softball leagues in the 1970s and had a career in her own hair salon. 1980s, she was the lead softball coach and worked at Wal-Mart.  Mom worked hard and took care of her kids. 1990s, after retiring from Wal-Mart, Mom went back to school and earned a certificate in the airline industry where she worked for Continental Airlines for numerous years. She enjoyed traveling some over the years. Mom was such a good cook, always feeding everybody that came to visit. Mom loved her grandchildren and great-grandchildren so much.
Patty is preceded in death by her father, Charles Barnhart, mother Mary Lee Barnhart, sisters Donna Boatright and Beverly Cox, and brother Charles Russell Barnhart.
She is survived by her four children: Vicki Ford of San Leon, Sherry and (son in law) Dwayne  Epler of Texas City,  Jerry and (daughter in law) Shawna Ford  of Cedar Creek, Natalie Seelbach of Bay City; a special niece like daughter, Renee' Kerr of Grand Prairie; grandchildren: Joseph Allen Woods, Jasmine Kay Woods, Justin Aaron Woods, Jason Alexander Woods, Heather Marie Epler, Amanda Michelle Epler, Stephen Alwin Seelbach, Stephanie Renee Seelbach, Sophie Rae Seelbach, Samantha Lynn Whatley, Jacob Douglas Ford, Julie Ann Ford; seventeen great grandchildren; sisters: Debra Trust of Pearland and Sheila Ashley of Kemp; numerous nieces and nephews and other family members.
Patty is loved and cherished in our hearts.  She will be missed so much.
There will be a memorial service at 2:00 p.m. on Saturday, June 3, 2023 in the chapel of Crowder Funeral Home, 2422 Broadway Pearland, TX 77581.