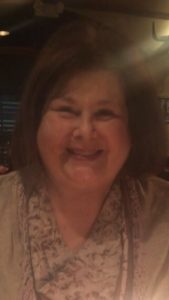 Patricia Ann Scillian, age 69 , passed away peacefully on Tuesday, October 29. 2019 after a long and courageous battle with breast cancer.  She was born December 9, 1949 in Galveston, Texas to Roland and Rose Miller of Hitchcock, Texas.  An only child and her parent's pride and joy, she married her high school sweetheart, Thomas Scillian, in June of 1970.
She enjoyed a long career in the education field and treasured her many years as a secretary for Clear Brook High School.  The relationships she built with both students and co-workers were meaningful and that made her time there very special.
Pat was one of those people you just never forgot.  Everybody loved her because she made every interaction count.  Whether it was a long-time friend or a cashier at the grocery store, she made you feel her warmth.  She was open and joyful and talkative and she connected with you.  It was a gift and one of the things she will be remembered for the most.
A daughter, wife, mother and grandmother, Pat adored her family.  She doted on her grandchildren and was grateful for the years she had to watch them grow.  She was quite possibly the best listener on the planet and rarely missed an opportunity to lend an ear.  Those closest to her will miss her talks.  They were just the best.  Pat was kind and good and will be deeply missed by all who knew and loved her.
Patricia was preceded in death by her husband of 36 years, Thomas Scillian in 2006.  She is survived by her son, Tommy Scillian and wife, Jill of Southlake, Texas; daughter Sarah Nordin and husband, Bryan of Keller, Texas and her four grandchildren Claire, Kate, Luke and Lauren.
Please join us in celebrating her life.  A memorial service will be held on Monday, November 11, 2019 from 5pm-7pm at Crowder Funeral Home, 851 FM 517, Dickinson, Texas.