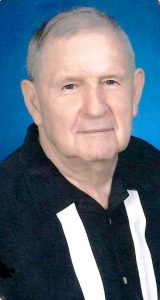 Oscar W. Olszewski, 82, passed away on October 20, 2017, in Houston, TX. He was born on November 6, 1934, in Laredo, TX, to Wsiewolod Olszewski and Maria de los Angeles Enriquez-Trevino Olszewski.  He is preceded in death by his parents, step mother, and three sisters and brother and their spouses, and Ana Maria Campos. Oscar is survived by his spouse Margaret; five children, Oscar W. Jr., Alma Linda, Carlos and his spouse Zenitha, Gabriel and partner Roger Ngim, and A. Erick Olszewski; four grandchildren, Lacey, Oscar III, Carlos Jr., and  David; and three great grandchildren, Tyler Glover, Jacey Glover, and Lillian Olszewski; and numerous nieces, nephews and other family members and friends.
Oscar's life work was spent in the space exploration industry at NASA and Lockheed where he developed the Rendezvous Expert System (REX).  He had a passion for his Catholic faith, classical music, travel, and the Houston Astros.
A Visitation will be held on Thursday, October 26, 2017, from 6-7 pm, followed by the Catholic Vigil Service from 7-8 pm at Crowder Funeral Home, Webster, TX .  The Rite of Christian Burial will be held at St. Clare of  Assisi Catholic Church on El Dorado Blvd at 10:30 am on Friday, October 27, 2017, followed by a luncheon and internment at Mount Olivet Catholic Cemetary in Dickinson, TX.
In lieu of flowers, you may make a donation in Oscar's name to the Houston Area Parkinsons Society or the Michael J. Fox Foundation.