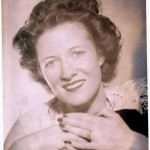 , 96, passed away July 16,2014. A redheaded, freckle faced homemaker from the Midwest moved to Houston in 1950. Her quiet friendliness belied her many accomplishments. She was a gracious, stylish, smart Christian woman who was interested in everything from breeding chinchillas to owning a pig farm.
An early liberated women of the 50s; she was one of the first female certified master real estate brokers in Texas. Her four offices were staffed with women only. Olive was involved with many community improvement programs and had belonged to Eastern Star for over 50 years.  After an early retirement, she returned to Flora, Ill., her hometown, where she researched and restored the Shriver House built in 1893.  It was placed on the National Register of Historic Places. Once a funeral home, the house was said to be haunted, perfect for her inquisitive nature and sense of humor. Years later, she returned to Houston to be near family.
Olive was a bridge player, docent, antique hound, historian, fisherman and a regular "Martha Stewart" with gourmet cooking, interior decorating, and gardening. Olive had a wonderful and interesting life. Her favorite thing was her love and pride in her family.
Olive is preceded in death by her parents Harry and Cloye Redenour; sister, Betty Smith and her husband's Travis Shipp, Oscar Thompson and grandson, Tom Wild Jr.
She is survived by her son, Richard Shipp (Carol); daughters: Karla Wild MD (Tom) and Susie Netznik; grandchildren: Terry Moorhead, Shelley, Stephanie (Brett) Baptist, Christine (Wayne) Carrels, Kimberly (Vance) Lockwood and Jenny (Tre) Gillis; twelve great grandchildren, one great great grandchild.
 A small celebration of her life will be held at 2pm on July 25 at her daughter's home. Send messages to family via MarkCrowder@crowderfuneralhome.com.   Donations to any charity in her name will be appreciated