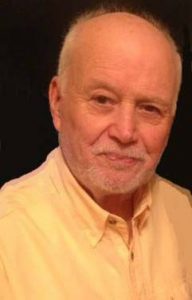 Olen Dale DeFoore, Sr. passed away on Wednesday, September 13, 2017 at Clear Lake Heart Center in Webster, Texas at the age of 79.
He was born in Waxahachie, Texas on October 12, 1937 to William Davis DeFoore and Vivian Byrum DeFoore.
Olen was a United States Army veteran and was a retired route salesman.
Olen loved woodworking, watching football, studying God's word and spending time with his bride and family.
Olen was preceded in death by his parents, William and Vivian DeFoore, his sisters, Billie DeFoore Crane and Shirley DeFoore Berry, his brothers Dudley "Gene" DeFoore and Willie DeFoore.
Olen is survived by his wife Carol Webb DeFoore, their son Olen DeFoore, Jr., his wife Karyn, Their daughters Janis Doyle and her husband John, Susan DeFoore, Catherine DeFoore and fiancé Scott Seyl and Monica DeFoore.
Olen's surviving siblings, George DeFoore of Athens, TX and Donald DeFoore of Galveston, TX
Grandsons: Michael, Matthew and Andrew DeFoore, David Benjamin Conant, Douglas "Buster" Wologo, Jacob Wologo, Russell and Christopher Hester, Joshua and John DeFoore.
Granddaughters: Katie Wologo, Tiffani Hester, Laurel McCracken and husband Brian, Mallory DeFoore.
Olen has nine great grandchildren.
Olen was the cornerstone and patriarch of the DeFoore family. In addition to his biological children, he had many spiritual children, too.  Our cornerstone has left his earthly body with all its suffering and has gone to be with Jesus in his new heavenly home.
Until we meet again,
Your loving family
The service will be held on Monday, September 18, 2017 at Crowder Funeral Home in League City, TX.
The public viewing will be at 10:00 am, and the service will begin at 11:00 am.