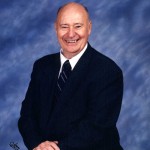 Norman Gail Trainer, 81, of Dickinson, Texas was born May 17, 1932 to Gail and Vina Ovilia Trainer in Leverett's Chapel, Texas. God assigned him a new address February 25, 2014. Norman worked for Shell Chemical in Deer Park and Monsanto/Sterling in Texas City. He was an active member in the Masonic Lodge in Dickinson and LaMarque. Norman also proudly served 13 years as a police chaplain with the Dickinson Police Department. He was preceded in death by his parents and his sisters, Joyce Duckett and Barbara Gilstrap.
Norman is survived by his beloved wife of 58 years, Mildred Thornton Trainer; daughters, Susan Diane Blouch and her husband, Roger, and Cynthia Muecke and her husband, Gregg; son, Norman Trainer, Jr.; grandchildren, Adriane Lesdesma (Mark), Travis Norman Trainer and Dylan Garrett Muecke; and many nieces.
A visitation in his honor will be held Sunday, March 2, 2014 from 5:00 p.m. to 7:00 p.m. with funeral services Monday, March 3, 2014, 10:00 a.m., at Crowder Funeral Home Chapel, Dickinson, Texas with committal services following at Forest Park East, Webster, Texas.