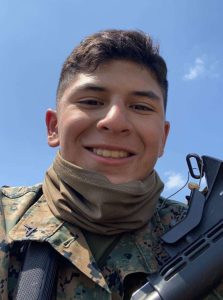 Nicholas Alexander Giron had many nicknames: Nick, Brick, Nickoli, Pip squeak, Mighty Mouse just to name a few.
Nick was born on July 10th, 2001 in Houston, Texas at St. Luke's Hospital. Nick passed away on April 25th, 2022 in Okinawa, Japan; he was 20 years old.
Nick knew he wanted to be a soldier since he was five years old, he was always fascinated by servicemen. Nick went on to join the United States Marine Corps straight out of high school. Nick was a very caring and thoughtful person, wanting to make people happy especially his family. Nick had a light that shined bright, he could light up a room with his smile and his personality was infectious.
Nick will be deeply missed by all of the family he leaves behind.
On Tuesday, May 10, 2022 a Visitation will be from 2:00 pm – 3:00 pm followed by a Funeral Service at 3:00 pm at Crowder Funeral Home, Webster, Texas.