Natalena Christine Panattoni Carlino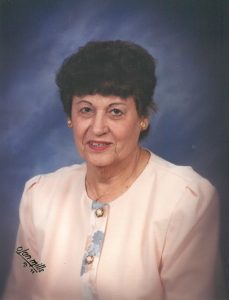 Natalena Christine Panattoni Carlino of La Marque, Texas passed away January 23, 2017 at Bayou Pines Nursing Home.  She was born in Galveston, Texas on September 20, 1920.
Her parents were Alfredo Luigi Panattoni and Maria Italia Ginevra Nesti Panattoni who were born in Italy and migrated to Galveston, Texas via Ellis Island.  She married Joseph Carlino, Jr. January 30, 1946.  They were married for 58 years.  Their home was in La Marque, Texas.
She is survived by the following nieces: Mary Louise Anderson, Patricia Sabatino, Linda Panattoni and Virginia Lynch.
Visitation will be on Friday, January 27, 2017 from 1:00pm – 2:00pm at the James Crowder Funeral Home in La Marque.  Funeral Service will follow at 2:00pm at the funeral home.  Entombment will be at Galveston Memorial Park Mausoleum in Hitchcock, Texas.
Pallbearers will be Barry Lynch, Stanley Lynch, Orville Anderson, Michael Anderson and Edwin Bertsch.