Muriel Mae Kearby Albaral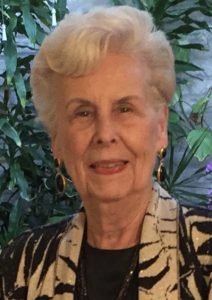 Muriel Mae Kearby Albaral was born on March 23, 1926 in Gause,Texas and passed away peacefully at her home in Houston on March 13, 2023.  Muriel grew up in Galveston, graduated from Ball High and was a longtime resident of La Marque and Houston.  She was devoted to the church, as a clergy wife, a member of Daughters of the King and president of St. Luke's Episcopal Hospital Auxiliary in 1990 where she volunteered for 20 years. Her faith, kindness and grace touched many lives.  She was loved by family and friends.  We will all miss her.  Her deep faith has taken her home.
Muriel is predeceased by her husband of 46 years, the Reverend H. Raymond Kearby, her parents Glen Dale and Ida Critchfield, her brother Glen, her son Chris Kearby, her son Kent Kearby and her husband of 13 years, Sam A. Albaral.
Muriel is survived by her daughter Carol Kearby Roberts, her son Mark Kearby and his wife Brenda, her granddaughter Kara Hutchings and her husband Al, her sister Lillie Mc Neel, and her husband Sam's children Ronda Albaral Hand, Karen Albaral Patterson and Robert Albaral.
A service will be held at St. Martin's Episcopal Church, 717 Sage Rd @ Woodway, Houston, Tx  77056  on Friday, March 24, 2023 at 2:00 pm.
In lieu of flowers, the family suggests memorial donations be made to Lord of the Streets Episcopal Church, an Episcopal Mission serving the homeless and formerly homeless in Midtown and Downtown Houston.  https://www.lotshouston.org