Mr. Harry Edwin Wright Jr.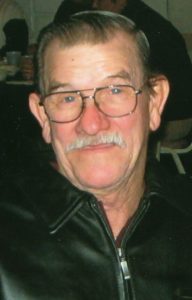 Mr. Harry Edwin Wright Jr. passed away in his home with his wife by his side on July 17, 2017 in Pearland, TX. Mr. Wright was born in Cincinnati, OH, served his country in the U.S Army during the Korean War, and was of Catholic faith.
Mr. Wright is preceded in death by his son, Harry Wright II; parents, Harry and Marie Wright; brothers: Ronald Wright, James Wright and Larry Wright.
Mr. Wright leaves behind his wife of 59 years, Rebecca Louise Wright; daughters: Sherry Melton and Debra Riley, husband Mike; daughter in law, Deborah Wright; sisters: Beverly Stone, Patricia Petrey and sister in law, Therese Wright; eleven grandchildren and fifteen great grandchildren.
Harry, or Pappaw to his grandkids, truly lived life to the fullest through small pleasures. He was a simple man who found happiness through simple things: chatting with old friends and family, fishing and sorting through baseball cards with his grandkids, and Little Debbie Snack Cakes.
Harry was a wonderful husband, father, grandfather, brother, uncle, and friend. He set an example for all that knew him on what it means to work hard for your family and love without question. He was the kind of man who would put the weight of the world on his shoulders and never complained, as long as everyone was taken care of. Made his family feel nothing, but unconditional love. He accepted everyone, no matter their faults. He was an inspirational man who will leave his family and friends with irreplaceable memories of jokes, laughs, and smiles. He was a child at heart and we never knew him any other way.
Harry would not want anyone to stand over his grave and weep, but for all of his loved ones to look to one another and become closer in celebration of the wonderful life he lived. He was always most happy in the presence of his family; therefore, would want the void he has left us filled by the memories we create together.
Visitation will be held from 11am to 2pm at Union Hill Church in Huntsville, TX with a service to begin at 2pm. Burial to follow at Bath Cemetery in Huntsville, TX.
Pallbearers will be: Mike Riley Jr., Harry Edwin Wright IV, Bobby James Wright, Michael Wayne Wright, Meral Leon Courtney, Justin Fuller, Jason Pierce, Darrion Thomas and Lyndon Bradley Wright.
In lieu of flowers please send memorial contributions to Camp Hope: http://ptsdusa.org, P.O. Box 690748 Houston, TX 77269. O. Box 690748; Houston, Texas 77269