Mr. Charles Hobert Collins Jr.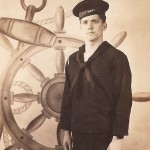 Mr. Charles Hobert Collins Jr., 90, was born in Etowah, TN. on August 21, 1925 and passed away on October 25, 2015. Mr. Collins served in the U.S Navy as a ships cook second class during WWII, Pacific Theater. In 1950, he moved to Houston, TX and opened his own business, CH Collins Plumbing. Mr. Collins was part of the Park Place Masonic Lodge, and he loved his country music.
He is preceded in death by his wife of 68 years, Delpha Collins; daughter, Linda Ann Collins Hamlet; son, Charles W. Collins; sister, Eileen Brown.
Mr. Collins is survived by his sons: Michael A. Collins and Wife Karen and John L. Collins and wife Carol; brothers: Wayne Collins, Bill Collins, Jack Collins, Bob Collins and wife Shirley and Pete Collins; grandchildren: Treva, Stephanie, Carlos, Nathan, Jacob, Amy, Andrew, Tracy and Joshua; and 7 great grandchildren.
There will be a visitation on Saturday, November 7, 2015 at 1pm with a memorial service to begin at 2pm, at Crowder Funeral Home, 2422 Broadway, Pearland, 77581.
Please make memorial contributions to: American Cancer Society in honor of Charles Collins name.