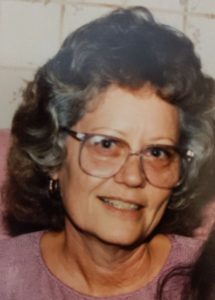 Mona Diane Gautney, 82, a resident of Alvin, Texas, passed away at home Feb. 22 after a fight with cancer. She was born April 30, 1940 in Jacksonville, Texas, raised two loving children and was a doting grandma to two grandchildren.
She had a knack for turning trash into treasure, was a talented crafter with a green thumb, and loved spending time outdoors admiring God's handiwork. She is preceded in death by her son, Robert Austin Gautney, Jr. and her parents, Avaul and Beulah "Suzy" Smith.
Mona leaves behind her daughter, Jennifer Casady, husband Len; grandchildren: Michelle Casady, husband Matthew Wilson, and Joshua Casady; sister, Mary Sue DuBose, husband Weeks; and brother, Avaul Vernon Smith, Jr. She was loved dearly and will be missed tremendously.