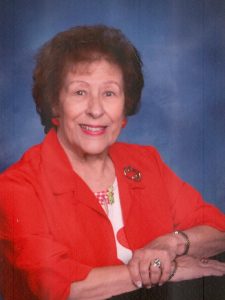 Minerva Helene Baca Poling 1932-2017 peacefully passed away surrounded by those who loved her on May 19, 2017. She was born to Amado and Inez Baca in Albuquerque, NM.  She attended St Vincent Academy in Albuquerque, NM.  She was preceded in death by her husband of 44 years Gerald E. Poling, her sister Margie Leonard, and her brother Dr Don Baca.
She leaves behind her brother Justice (ret) Joseph Baca and wife Dorothy; daughter Sharon Thaggard and husband Robert; sons Mike Poling and Jackie Lehner; Steve Poling and wife Jenny; grandchildren Taryn, Rachel, Nicole, Danielle, Nathan and Bryce; brother in law Lt Colonel (ret) Charles Leonard; nieces Jolynn Baca Jaekel and husband Rob; Andrea Baca Wash and husband Jay; Anna Marie Baca Van Blarcom and husband Chris; Mark Leonard and wife Liz; nephews Charlie, Sam, Andy and Robert Leonard; George Baca and wife Joan and Robert Baca.
Helene, as she was affectionately known, worked as a school administrator for Clear Lake Elementary for 23 years where she made many friends of parents, students and faculty. Helene was also active in church groups such as the Carmeliters, Helping Hands, Sunshine Club and Widows Club.  A passionate traveler, Helene traveled extensively throughout the U.S. and the world.
With a kind and thoughtful word for everyone she met, she touched the lives of many through her service, friendship and prolific sending of cards and letters. In a style that harkens back to days gone by, she always took the time to send a personal handwritten note to recognize special occasions.  One of her favorites was "Christmas in July".
Active until her final days, Helene possessed a boundless energy and infectious enthusiasm for life. She lived each and every day to its fullest and spread kindness and joy where ever she went.
A memorial service will be held on Thursday May 25, 2017 at 7:00 pm (doors open at 6:00 pm) at Crowder Funeral Home 111 E Medical Center Blvd Webster, Tx 77598.
A funeral mass will be held on Friday May 26, 2017 at 10:00 am at St Bernadette Catholic Church 15500 El Camino Real Houston, Tx 77062. A reception will take place immediately afterwards at St. Bernadette Catholic Church.
In lieu of flowers, donations can be made to St Jude Children's Research Hospital, El Santuario de Chimayo or the Support for People with Head and Neck Cancer, Inc..