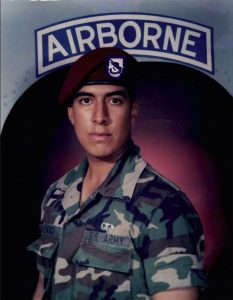 Miguel Solano Jr., 52, passed away on May 31, 2023, in Houston, Texas. He was born on March 26, 1971 in Del Rio, Texas to Miguel Solano Sr. and Ramona "Lupe" Solano. Miguel is survived by: his fiancée, Bertha Nunez; daughters, Brook and Jasmine Solano; sons Miguel the 3rd and Gabriel Solano; grandchildren, Luna and Yarrow and numerous other family members and friends. 
When his nation called, he answered by joining the Army, and completing Airborne school. He also served his country as a Border Patrol Agent for 8 years. He worked as an Operator for Exxon Mobil for 14 years. His greatest passion was nurturing his family and he loved to rescue animals, most especially dogs. 
A memorial will be held on Thursday, June 8th 2023 at 7pm at Crowder Funeral Home, 111 E. Medical Center Blvd, Webster Texas, 77598. In lieu of flowers those wishing to make a memorial donation in Miguel's memory may do so to Miguel Solano 3rd, 15902 Hickory Knoll Drive, Houston Texas, 77059.