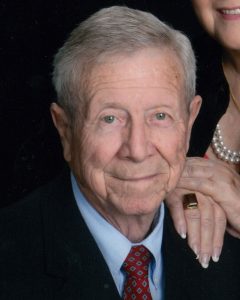 Miguel A. Zamora passed away peacefully on Sunday, Sept. 3, at his home in Nassau Bay, Texas. He was 88. Miguel was born on Aug. 1, 1929, to Jose Matias Zamora Gonzalez and Maria Guadalupe Quiroga de Zamora in Mexico City, as the Cristero War was ending. With the Catholic Church still operating "underground," he received the sacraments of first communion and confirmation when he was just 5 years old. He also served a year in seminary as an adolescent, ultimately deciding against the priesthood but solidifying "the faith I got from my parents [that] has accompanied and sustained me all my life." Miguel was granted entry to the United States in 1952, where he lived with his mother's family in San Antonio and signed up with the Selective Service. He was drafted into the U.S. Army and served honorably in Korea as a combat engineer with the 45th Infantry Division, returning to the U.S. in 1954. Among the experiences dad gained in Korea: a combat injury, a GED, a stint in the Army cook and bakers school and an expanded (if colorful) English vocabulary.
Upon discharge, Miguel returned to San Antonio where he obtained his U.S. citizenship and earned a bachelor's degree in physics from St. Mary's University. He married Veronica Magdalene Aldrete on July 30, 1960, and began building a family and an illustrious career in aerospace engineering. He had the privilege of working on many NASA projects including the Apollo, Skylab, Space Shuttle and International Space Station programs. He remained active in the church until his final days, serving as a Eucharistic minister at St. Mary Catholic Church in League City, advocating for vocations through the Houston Serra Club, and volunteering with myriad local organizations, including Methodist Hospital and the USO.
Miguel was as devoted to his family as he was to his faith, and leaves behind six children, five stepchildren and 29 grandchildren and great-grandchildren. He is preceded in death by his wife, Veronica, and daughter, Letitia Zamora Bernal, as well as his siblings, Gaspar Valentin, Magdalena Sofia, Martin Carlos, Jose Matias and Maria del Carmen. He is survived by his second wife, Frances Zamora; his children, Miguel Angel II, Sr. Marie Kolbe, Jose Matias, Armando Rafael, Gabriel Andres and Amanda Mercedes; his brother, Rafael, and sister, Maria Teresa; and his stepchildren Brad Ward, Brenda Ward, Barrie Ward Nichols, Branch Ward and Brooke Ward.
A viewing will be held at 6 p.m. Monday, Sept. 4, at St. Mary Catholic Church (1612 E. Walker Street, League City, 77573) with a rosary at 7 p.m. A funeral mass will be celebrated at the same church at 10:30 a.m. Tuesday, Sept. 5, with a luncheon following. In lieu of flowers, donations may be made in Miguel's memory to the St. Mary Catholic Church Building Fund (281-332-3031 and http://saintmcc.org/donate) or to St. Mary's University Scholarship Fund (http://alumni.stmarytx.edu/support/give-now/).