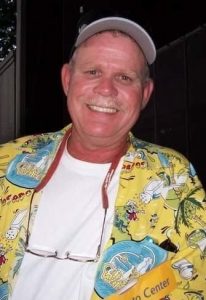 Michael Ray Wallace, 65 of Texas City, Texas passed away on Tuesday, November 1, 2022. He was born on December 29, 1956 in San Antonio, Texas to Bennie and Billie Wallace. Michael was preceded in death by his father, Bennie Wallace, mother Billie Ruth Bush, sister Enola Gay Wallace, and brothers Aaron Gene Wallace and Steve Skalsky. He leaves behind to cherish his memory wife Donna Wallace, son Dustin Michael Wallace and granddaughter Lucille June Wallace, his brothers Billy (Crystal) Wallace, Russell (Shirley) Wallace, Mark (Kathleen) Wallace and his sisters Vel Hunt, Cynthia (Jim) Johnson and Tammy (Robert) Lindsey, along with numerous nephews and nieces.
As a young boy he was introduced to his love of baseball by his older brother Billy, who remarked to Mike's coach that Mike was a pitcher. When they threw catch in the yard Mike was always the pitcher because they only had one glove and Mike couldn't catch. The coach put him as pitcher and he struck everyone out. He continued as a pitcher through High School. Mike has always loved to fish! He has fished throughout his life at every opportunity. Since Mike retired in May 2019, he has been fishing every day and taking pictures of the sunrise and some days the sunset.
He met his bride, Donna, in 1979 and they married in 1985. They enjoyed lots of love and laughter in their young lives together. In 1988 Dustin was born and Mike was the Dad that every kid dreams of. He shared his love of baseball with Dustin and coached him from PeeWee League through Pony Colt. Mike was overjoyed when granddaughter Lucy was born in 2016. She called Mike "Her silly Papa" They enjoyed time together throwing the minnows from papa's bucket into the wading pool, posing for silly selfies, setting up lights and watching their shadows dance and staring at the moon.
Mike joined Local #22 April 5, 1987. Mike worked at numerous job sites during his career including Sterling Chemicals, South Texas Nuclear Project, NRG Stadium, Minute Maid Park and lastly at Ashland. He also served on the Executive board and was inducted as an Honoree member of Local 22.
A visitation for Michael will be held on Saturday, November 5, 2022 from 11:00am to 1:00pm at the James Crowder Funeral Home in La Marque, TX.  A funeral service will be held at 1:00pm at the funeral home with interment to follow at the Hayes Grace Memorial Park in Hitchcock, TX.  Minister Zhane Johnson will officiate the services.