Michael "Mike" Wayne Gonzales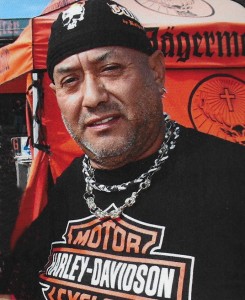 Michael "Mike" Wayne Gonzales, 61, of Houston, Texas passed away on July 31, 2016 in Houston.  He was born on December 20, 1954 in Port Arthur, Texas.  He was a lifetime resident of Houston.
Mike was of the Christian Faith.  He graduated from Pasadena High School Class of 1973.  Mike was a Millwright with the OCAW Local Union and retired after 37 years with Chevron Phillips in Pasadena.  Mike was passionate about his Corvette and was a devoted Harley Davidson Rider enjoying long rides with his wife.  He was an honorary member of the Warriors Bikers 4 Charity Motorcycle Club of Houston and he served as the Membership Chairman for the Gulf Meadows Civic Club of Houston.  Mike had 3 4-legged friends that were always at his side that will miss him dearly.
He is survived by his wife Dovie A. Gonzales, mother Nena Miranda, father Polo Gonzales, mother-in-law Doris Deitrich; daughter Trena R. Gonzales, son Michael Wayne Gonzales, II and wife Leticia, step-daughter Christina Galvan and step-son Michael Galvan,  brothers Ed Gonzales and Walter  Gonzales and wife Bernadine; sister Terry Vasichko and husband David, brother-in-laws; Danny Deitrich and wife Chantelle, Ronald Deitrich and wife Margaret and Joe Deitrich and three grandchildren Jeremiah Washington, Michael Gonzales, III and Victoria Gonzales and numerous relatives and Godchildren.
A Memorial Service will be at 7:00pm on Thursday, August 4, 2016 at St. Francis Cabrini Catholic Church 10727 Hartsook, Houston, Texas  77034 with Father Frank Fabj officiating.