Michael Lawrence Schmiedeberg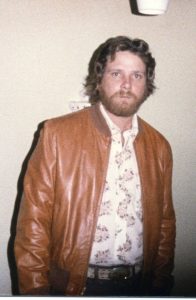 Michael Lawrence Schmiedeberg (65) of League City, passed away on Wednesday October 5, 2022 in Houston, Texas.  He was born on June 2, 1957 to Jimmie Ann Lawrence and Pat Schmiedeberg in Galveston, Texas.
Michael is preceded in death by his mother and father and daughter Karah Schmiedeberg.  He is survived by his father David P. Reynolds, daughter Kristi Collins, sister Debbie McGuire, brother Greg Reynolds and grandchildren Cain, Makenzye, Jaren, Camden, Sofia, and Everleigh.
Michael was a free spirit and a gentle soul who loved his family and friends. He loved sports in his younger years and participated in various teams in League City. He was the happiest riding his motorcycle.  He loved movies and of course, the seafood gumbo his mother, Jimmie, would make special for him.
In his honor, there will be a funeral service 10:00 am, Saturday, October 8, 2022, with visitation from 9:00 – 10:00 am, at Crowder Funeral Home Dickinson. Interment will follow at Galveston Memorial Park.