Michael Lawrence Santilli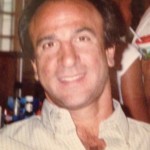 Michael Lawrence Santilli
2-15-1962 – 10-29-2014
Mike was the son of Lawrence Santilli (deceased) and Marlene Colella; brother of Lorene Peirce (Jack) and Nancy DeAngelo (Anthony), and uncle to Evan, Ella and Alex Peirce, and had many cousins.
Originally from the Chicago area, Mike lived in Texas for the past 32 years. He worked as an Electrical Maintenance/Operator on production platforms for 27 years.
He was an avid fisherman, spending many hours on his boat on Dickinson Bayou with his friends. Mike was also a sports enthusiast; a loyal fan of the Chicago Cubs, Bears, Blackhawks, and Bulls.
His mother, sisters, brothers-in-law, niece, nephews, aunts, cousins and friends will miss him and will find comfort in knowing he is now at peace.
Memorial Services will be in Dickinson, TX at Crowder Funeral Home, 851 FM 517 Rd. W. on Saturday, November 15th at 11:00 am. In Chicago on Saturday December 13th at 11:00 am, at St. Matthias Church, 2310 W. Ainslie Avenue.
Please check their websites for updated information.