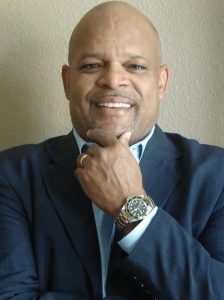 Michael John August Sr. entered fully into the presence of the Lord on Friday, December 16, 2022, after a 21-month courageous battle with Glioblastoma Multiforme (GBM) brain cancer. He passed peacefully at Houston Hospice surrounded by love.
A man of determination, Michael never gave up and never quit. He didn't lose his battle to Glioblastoma, but rather he won it each day with positivity, courage, strength, and faith. He gave God all the honor and praise for each and every day. He would often tell others that he was God's favorite child.
Michael was born on April 21, 1962, in New Orleans, Louisiana to Joyce (LaBeaud) Carter and Alfred August Sr. He spent his childhood and early adulthood in New Orleans, Louisiana before relocating to Houston, Texas in the early 2000s. Michael accepted Jesus Christ as his Lord and Savior and was baptized as a teenager at Saint Bernard Church of God in Christ in New Orleans.
Michael had an adventurous spirit and desire to learn new things. He worked multiple jobs throughout the years that took him across the United States and around the world. He drove a horse and buggy in the French Quarters of New Orleans, was an electrician at Louisiana Power and Light Company, worked on electrical instrumentation on offshore oil platforms, and worked as a Safety Professional for an oil and gas project in the Permian Basin in western Texas. He was especially proud of his work with Kellogg Brown & Root (KBR) in support of the United States Military and Coalition Forces in Iraq. Most recently he worked as a Senior Construction Manager and Energy Marshall for Constructiv/Microsoft. He had a passion for ensuring that tasks were completed correctly and safely to ensure all his colleagues returned home to their families.
Michael was one-of-a-kind. He had a strong personality and booming voice that commanded attention when he walked into a room. He loved to spend time with family, cook, grill, golf, ride horses, travel, sing, dance, have fun, and make others laugh. Michael never met a stranger and he had plenty of entertaining stories to share. He enjoyed watching all types of sports and was an avid fan of the LSU Tigers. He passed on his athleticism and passion for sports to his children. He was proudly an Associate Member of the Zulu Social and Pleasure Club in New Orleans.
Michael was preceded in death by his grandparents, his beloved Granny Olga LaBeaud, father Alfred August Sr., mother Joyce (LaBeaud) Carter, and step-father Leonard "Lucky" Carter. He is survived by his wife Melissa, his children Michael August Jr (Shae), Marquell Helmstetter (Keith), Gabrielle Magee, Joshua August, Justin August and Myles August, his grandchildren Marquise Helmstetter, Makhi Helmstetter, Karter Helmstetter, Daylon August and Skylar August, his siblings Verna Henry (Michael), Rhonda Wylie, Alfred August Jr. (Angela), Yolanda Scales, Simone August, and Lisa Nelson, and a host of uncles, aunts, nieces, nephews, great-nieces, great-nephews, family and friends.
The family would like to express their gratitude to Michael's medical teams at UT Health Houston Neurosciences, Houston Methodist Kenneth R. Peak Brain & Pituitary Treatment Center and the staff at Houston Methodist's Neuro Intensive Care Unit, Skilled Nursing Facility and Intermediate Care Unit for their compassion, care, guidance and for standing by our family in every step of Michael's journey. The family is also grateful to the staff at Houston Hospice Inpatient facility for the compassionate care provided and love shown to our family.
In lieu of flowers, donations may be made in Michael's memory to Houston Hospice (www.houstonhospice.org) or National Brain Tumor Society (www.braintumor.org).
Anyone wishing to send flowers or plants may contact Kemah Flowers and Company, www.kemahflorist.com
The Family will receive friends on Friday, December 23, 2022 at 11:00am with a Ceremony at 11:30am at Bible Way Fellowship Baptist Church, 10120 Hartsook, Houston, Texas 77034 with Pastor Ivory L. Varner officiating. Interment will follow at Houston National Cemetery.
For those attending the service tomorrow, Bible Way Fellowship Baptist Church requires all attendees to wear a facemask in the Sanctuary.
Here is the Live Stream link to view the service for Michael August Sr:
Live Broadcasting | Bible Way Fellowship Baptist Church (bibleway1.org)