Michael Anthony Joseph Breit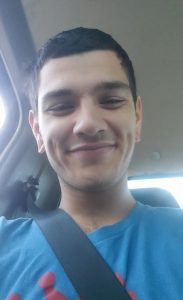 Michael Anthony Joseph Breit, 22, passed away on August 2, 2017 in Friendswood, TX. He was born on November 12, 1994 in San Diego. CA. Michael is survived by his parents, Joseph and Virginia; birth parents Michael Gruner and Michelle McVay; sister, Nina Barraza; and brothers, Daniel Segarra, Rafael (Nick) Sanchez and Jesse Pacheco; nephew Anthony Segarra and niece Annabelle Barraza.
Michael had a great love for family and enjoyed gaming and working out.
A Visitation will be held on Tuesday, August 8, 2017 from 2:00 pm to 3:00 pm followed by a Funeral Service at 3:00 pm  at Crowder Funeral Home, Webster, TX.