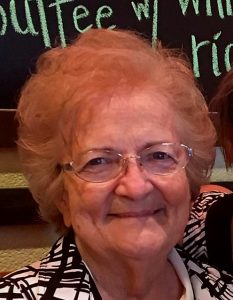 Metta Adon Preas, of League City, passed away on Sunday, October 30, 2022 in League City at the age of 83. She was born on February 23, 1939 in Wichita, Kansas to Chester and Viona (Embrey) West.
Metta graduated from La Porte high school in 1957 and always had a heart for The Bulldogs. She recently attended a 65th class reunion and was able to visit with many of her classmates.
She married Jerry in June of 1957 and began a marriage of 64 exciting years. They made their home in Buckeye, Arizona while Jerry taught high school then returned to Texas to reside in West Texas City for a teaching position at College of the Mainland. They later moved to Midland, Texas and stayed there for 42 years. During the years of 1972 – 2019 Metta and Jerry hosted Lions International Foreign exchange students from all around the world. These students visited their home and traveled the great state of Texas for cultural experiences.
Metta spent countless hours at the Museum of the Southwest and had a true passion for all events and the various collections that passed through the historic building. Metta also shared her extensive collection of Nutcrackers during the Christmas season. She retired from the museum in 2011 after 30 years of service and dedication.
She enjoyed anything Disney and The Wizarding World of Harry Potter. Every opportunity to travel and Metta was ready. Her last big trip to DisneyWorld was with her daughter and grandchildren at Christmas 2015. Travel was a highlight of her life with her husband of 64 years. They traveled to all 50 states and she enjoyed cruising The Baltics and seeing Norway, Finland, Soviet Union and Denmark as well as many places in the Caribbean.
One of the many things Metta enjoyed were the large extended family reunions that took place each year. Having family travel far and wide to regroup and share the latest tales and refresh on past stories was a highlight for her and Jerry. They were the "go to" for getting everyone to one place. Metta had a strong Faith and had many favorite verses that she held close to her heart. After Jerry passed in January her Faith became stronger and she shared her thoughts often.
She is preceded in death by her husband Jerry Lee Preas on January 14, 2022 and her brother Ronald Bruce West on July 22, 2022.
Metta will be greatly missed by her daughter Regena Collier and husband Jimmy she loved to call her "Indiana Jimmy." Grandchildren William Ethan Wolters (Becky), Madeleine Elise Wolters Johnston (Hunter), Bonus grandchildren Samantha Totty (Todd), Amy Racy (Jeff), Trish Parrent (Michael) and 7 great grandchildren. Metta leaves a multitude of friends and family behind to laugh and remember her dimples and laughter.
The Family will receive friends and family on Saturday, November 12, 2022 from 3 – 5pm at Crowder Funeral Home, 1645 East Main, League City, Texas 77573. Interment will take place at Houston National Cemetery on Friday, November 18, 2022 at 10:15am.
In Lieu of flowers memorial donations can be made to a charity of your choice.