Mertie Grace Thurmon Walton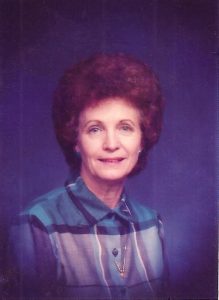 Mertie Grace Thurmon Walton, aged 90 years, passed away May 16, 2019 at home in League City, TX.  Born October 9th, 1928 in Summerfield, Louisiana to Curtis Ephraim Thurmon and Ethel Mae Wright Thurmon, Mertie was pre-deceased by her husband of 70-1/2 years, Thomas ("Tommy") Earl Walton, her parents, siblings Gladys Thurmon Dunn Thomas, Curtis Walker ("Buddy") Thurmon, Dorothy ("Dott") Thurmon Thornton, Charles Lowell Thurmon, and her grandson Ronald "Ronny" Pool.
Mertie is survived by sisters Anna Annette ("Nett") Thurmon Garris and Elizabeth Ann ("Liz") Thurmon Griffith, children Tony Ray Walton, Patricia Gail (Kosko), Carla Michelle (Pool), grandchildren Lindsay Reed Walton, Kristopher Jon Kosko, Lauren Meredith Walton, Raymond Keith Pool, Jr., Haley Marie Walton, great-grandchildren Layla Mallory Pool, Alexander D. Walton, Christopher W. D'Alonzo, and numerous nieces, nephews, and in-laws.
Mertie worked for Amoco Oil Refining in El Dorado, Arkansas, and for many years was a church secretary at Heights Baptist Church and First United Methodist Church in Texas City, Texas.  She spent over 25 years exclusively as a homemaker, and as a reading volunteer in the Texas City School district.
Mertie was able to realize her dream to travel internationally, visiting countries around the globe in the 1990s and early 2000s.
A memorial service will be held at Crowder Funeral Home, 401 Texas Avenue, La Marque, TX 77568, on Wednesday, May 22nd, 2019, beginning with visitation from 2:00-3:00 P.M., with the service following at 3:00 P.M. at the same location. A graveside service will follow at 10:00 AM on Friday, May 24th, 2019 at Rest Haven Memorial Cemetery in El Dorado, Arkansas.