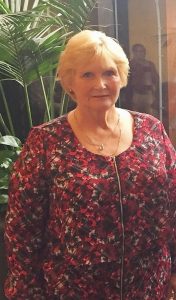 Melissa Ann Carpenter, 64, of Seabrook, Texas, passed away on January 24, 2018 at M.D. Anderson Cancer Center in Houston, Texas, surrounded by family and loved ones.
Melissa is survived by her daughter, Sheena Jones, husband Justin; sons: Tommy Gordon, wife April, Frank Carpenter, wife Stephani, Jaycee Carpenter, wife Ellisia, and Sam Carpenter Jr., wife Mitzi; grandchildren: Brittany, Hannah, Sam, Mattie, Aubrey, Parker, Adalyn, Colby, Michael, Chase, Kaitlyn and McKinlee; sisters: Nellie Krizak, husband Kevin, and Jeanette McKinley; brothers: Clyde Allen Whitehead Jr., James Whitehead, wife Qing, Millard Whitehead, wife Elizabeth. She also leaves behind numerous loving relatives and friends.
She was preceded in death by her parents Clyde Allen Whitehead Sr. and Myrtle Whitehead, her husband, Sam Carpenter and her late brothers: Dewey Dale Whitehead, Vernon Ray Whitehead, Earnest Lee Whitehead, and Obie Lee Pittman.
Melissa was born in San Augustine, Texas on February 15, 1953. She married Sam on September 28, 1972 and was married for 33 years until his death in 2005. She worked in the Petrochemical Industry as a plant operator at Solvay Solexis in Orange, Texas for over 30 years. She enjoyed sewing, crocheting, cooking, and spending time with her family. Melissa will be deeply missed by her family, friends, and all who knew her.
Memorial service will be held at 10 a.m. on February 1, 2018 at St. Paul Apostle Catholic Church located at 18223 Point Lookout Drive, Nassau Bay, Texas 77058. There will be a graveside service at 4 p.m. located at Evergreen Cemetery in Orange, Texas.