Melba E. (Samora) Beverlin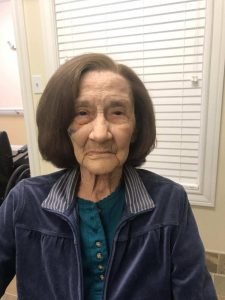 Melba E. (Samora) Beverlin of League City (formerly of Austin Texas) passed away July 15, 2021. She was born December 9 1920 the daughter of Lillie Lorene (Moore) Samora and father Francis Oscar Samora both deceased. She was raised near Yoakum Lavaca County Texas. She was preceded in death by her husband Richard B Beverlin October 1 1922-March 16 1987 and 9 brothers and sisters and daughter-in-law Cecelia A Beverlin June 7 1946-September 11 2003. She is survived by her son Richard B Beverlin Jr and his wife Laurie A. Beverlin of League City. Grandchildren Richard B. Beverlin III, wife Rosemary and children Richard IV, Melody and Matthew of Leander Texas (Their infant son passed away James A. Beverlin February 14–September 3rd 2005); and John A Beverlin wife Lindsey and children Knox and Jane of Galveston Texas. Melba was a loving mother, grandmother and great grandmother. She was a long-time member of St Albert' the Great Catholic Church in Austin Texas. The family wishes to thank her eucharistic ministers and caregivers.
In her honor there be a visitation from 6:00 – 6:45 pm, with a rosary and vigil service at 6:45 pm on Tuesday, July 20, 2021 at Crowder Funeral Home Chapel, Dickinson, Texas.