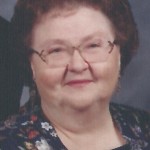 Maybelle "Mitzi" Lyons, 75, passed away Monday, October 20, 2014. She was born in Chicago, Ill to Elaine "June" Wilberding and Merle Hutchinson on June 16, 1939.
Married for 54 years, she is survived by her beloved husband, Thomas Daniel Lyons; brother, Dennis Hutchinson and wife Joan, her daughter June and husband Joseph Barba Jr.; granddaughters, Elizabeth, Ashley and Katelynn.
A funeral service will be held Thursday, October 23rd at 10:00 at the Bay Area First Baptist Church in League City, TX.