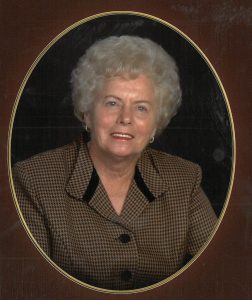 Maurine Pagel, 80, was born May 13, 1937 in Ganado, TX and passed away December 26, 2017. Mrs. Pagel was a resident of Santa Fe, TX since 1983 and was formerly of Houston, and Ganado, TX. Maurine attended St. James Lutheran Church in Ganado, TX and St. John Lutheran Church in Santa Fe, TX, she retired in 2000 from CMS Energy after forty years of service. She enjoyed working on the ranch and spending time with her family and friends.
Mrs. Pagel is preceded in death by her husband of fifty years, Leroy Pagel; her parents Walter and Gertrude Kuhlman.
Maurine is survived by her daughter, Gaylyn Pagel-Wisko; son, Rodd Douglas Pagel, wife Belle; brother, Shelton Kuhlman, wife Paula; brother-in-law, Raymond Pagel, wife Annabelle; grandchildren: Kaleb Wisko, Lorin Wisko, Sean Pagel, wife Kaitlyn, Ty Pagel, wife Brandi, Beau Pagel, Payden Pringle, Derek Pringle, Devon Pringle, Wacey Conrad and Shane Conrad; great grandchildren: Raezen Pagel, Eliara Pagel, Aliya Pagel, Ty Landen Pagel, Presley Pagel, Kennedy Pagel, Kinsley Conrad, Jake Pringle, Tyson Pringle, Ethan Galvan, Gracie Galvan and Hannah Galvan.
Visitation will be held Wednesday, January 3, 2018 from 5-8 p.m. with a service at 7p.m. in the chapel of Crowder Funeral Home in Dickinson. A funeral service will be at 2p.m. Thursday, January 4, 2018 at St. James Lutheran Church in Ganado, TX with burial to follow at Ganado City Cemetery in Ganado, TX.
Pallbearers will be: Rodd Pagel, Sean Pagel, Ty Pagel, Beau Pagel, Kaleb Wisko and Mike Wisko.
Memorials may be sent to: St. John Lutheran Church, 13136 Hwy 6, Santa Fe, TX 77510.