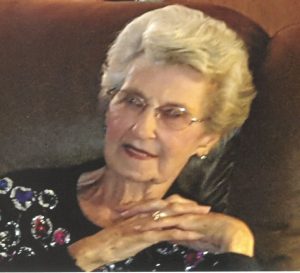 Mary Nell Stanley, 87, of Texas City, passed away Saturday, July 11, 2021, at her residence. Mary was born February 4, 1934 in Panola County, Texas, to Tom B. and Pearl Amason.  Mary Nell's favorite place was her beauty shop where for over fifty years she made so many special friends.
She was a dedicated wife and mother; she loved the Lord and her church Temple Baptist. She was married December 31, 1949, to James C.  (JC) Stanley.  Mary Nell was preceded in death by her parents, a son: Tommy Stanley, a Grandson:  Robert Lee James, two brothers: Glen and Ray Amason and one sister: Neida Hodges.
She is survived by her husband of 72 years JC, Daughter and Son-in-law Debora and Mike Margison, Granddaughter Renee and husband Tommy Garland, Grandson J.W. Stanley. Great Granddaughters: Tori, Makenzie, and Allie; Great Great Grandsons: Declan and Weston as well as numerous other family and friends.
A visitation will be held from 5:00pm to 7:00pm, Wednesday July 14, 2021, at James Crowder Funeral Home, La Marque, with a service following at 7:00pm at the funeral home.  A graveside service will be held at 3:00pm Thursday, July 15, 2021 at the Corinth Cemetery, in Timpson, Texas. Pallbearers will include Steve Lyle, Tommy Garland, J.W. Stanley, Mike Margison, Bennie Maly, and Gary Amason.