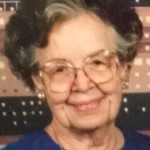 Mary Lou Bingham, went to be with the Lord on June 2, 2014. She was born in 1917 in San Antonio, TX to Mary Edna Thompson and David Scott Burns. She was a proud member of The Decorative Painter Society and of The Houston Egg Gill. Mary Lou also served faithfully for many years as a arts and craft instructor for Jr. Forum and her church. Mary Lou's wisdom, talent and love for her Savior, touched the lives of many.
She is preceded in death by her husband of 67 years, William Jake Bingham and son Charles Richard.
Mary Lou leaves behind her 2 children: Patricia Baecker and James Michael Bingham; 11 grandchildren and their spouses; 19 great grandchildren; 4 great great grandchildren and many other family members and friends.
A visitation will be held on Thursday, June 5, 2014 at 12:30 pm with a service to follow at 1:00 pm at Crowder Funeral Home in Pearland.