Mary Josephine Ducharme ("Mary Jo")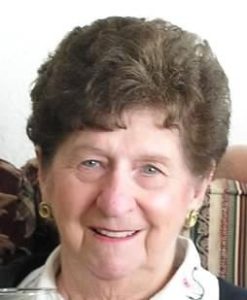 Mary Josephine Ducharme ("Mary Jo"), age 98, of Friendswood, TX, passed away on April 29, 2022, in League City, TX.  Mary Jo lived in the Houston/Galveston area for 74 years. She was born in Rutledge, Missouri on December 11, 1923, and was raised in Ethel, Missouri, a small town about 140 miles northeast of Kansas City.  After graduating from high school in Ethel, Mary Jo went to business school and, before the end of World War II, she was recruited into a civil service job as a clerical typist in Washington, DC.  While living in Washington, she met her husband, Floyd F. ("Frenchy") Ducharme, a U.S. sailor stationed in D.C.  Back in the mid-1940's, the USO clubs in D.C. were hopping with Jitterbug and the Swing.  When Mary Jo met Frenchy, and he could dance, that was all it took…"he was a keeper." They were married in 1948 in Kansas City and moved to Houston in 1949. They resided in Pasadena, Texas for 25 years, where they raised their 3 daughters, Jackie, Bonnie and Kay; then on to Bayou Vista to their water-front dream home for approximately 26 years; and then Bella Vita, Pearland (active adult community) for 9 years.  They danced the entire 67 years of their marriage.   Frenchy passed away in 2015.
Mary Jo was a dedicated homemaker, always keeping the house clean, tidy and germ-free.  A repeated directive to anyone entering the kitchen, coming to the dining table or exiting the bathroom, was "did you wash your hands!" Frenchy always jokingly replied "No" just to get her ruffled, and then laugh.  It was a life of constant comic relief.
Mary Jo was also an exceptional cook.  The many years of living on the waterfront catching fish off the dock and having access to plenty of fresh seafood, contributed to some of her most noted recipes like gumbo, shrimp slaw, crab stuffing, and shrimp etouffee.  She also loved to go fishing.
In addition to her culinary skills, she was a lover of live music. She kept up with all the best local rock and roll bands and live music venues.  She always knew where to go on the weekends and had a plan.
Mary Jo was also a dedicated walker.  She walked at least 3 or 4 miles a day, and if the weather was rainy or cold, she would walk in the mall.  Everyone knew her on her walking route.  She rarely missed a day.
Mary Jo enjoyed life and never wanted for much…always looking to have fun, have a good laugh and ready to go dancing!
She is reunited with her husband of 67 years, Floyd F Ducharme; parents, Carl and Marie Matlick; sister, Carlita Hogenson; brothers: Richard Matlick, James ("Buddy") Matlick, Maurice Matlick, Jerry Matlick, and Larry Matlick.
Mary Jo leaves behind her sister, Phyllis Beale; daughters: Jackie Yancey, Bonnie Ducharme, and Kay Lonsway; grandchildren: Myste Schielack, husband Stuart, Brandi Hitchcock, husband David, Meagan Miller, husband Chase, and Amy Lonsway; great-grandchildren: Cody Hitchcock, Stone Schielack, and Crew Schielack.
She was extremely blessed with the best dedicated care, love and companionship in her final years of life by her sweet caregiver Allison Quinones Moorehead.
Graveside services will take place on Saturday, May 7, 2022, at 3 p.m. at Forest Park East Cemetery, 21620 Gulf Frwy, Webster, TX (281) 332-3111.
Mary Jo is now with Frenchy dancing with the angels! 
For those who are attending the graveside service, here is a map to the location