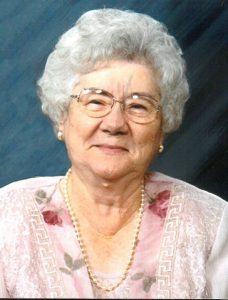 Mary Isabelle Chambers, 86, passed away Sunday, October 16, 2016 at Bayou Pines Nursing Home in La Marque.  She was born October 21, 1929 in Crowley, Louisiana to Sare and Enite Schexnayder.  Isabelle was a long-time resident of the Galveston County area.  She was preceded in death by her parents and her husband Loyal Otho Chambers after 65 years of marriage.
Isabelle was a loving wife, mother, grandmother and great grandmother.
She was a member of Northside Baptist Church in Texas City and attended Arcadia First Baptist Church in Santa Fe.
She is survived by her two sons, Earl Dexter Chambers, Sr., and wife Gabriela of Cancun, Mexico and Loyal Lester Chambers and wife Sharon of Santa Fe, Texas; her grandchildren; Dee Chambers, Brady Chambers, Jason Hill, Kimberly Hutchison and Myriam Adalid Castillo; she is also survived by and blessed with 10 great grandchildren; Sydney, Quinton, Wyatt, Dalton, Alexia, Daphne, Tony, Brynna, Kylar and Harleigh.
A Memorial Service will be at 11:00am on Monday, October, 24, 2016 at Northside Baptist Church, 2801 25th Street North Texas City, Texas  77590 with Pastor Clay Bowers officiating.